30 Days to More Joy, Self-Love & Ease
Welcome, Friend!
Chances are you have a lot on your plate. We all do so much, too much at times that it's easy to feel like we're in constant go-go-go mode. While we all love giving our best, we need time to recharge in order to fully be our best. It's essential to keep you physically healthy, not to mention mentally sane. 
Just as you nourish your body with what you eat, drink, and how you exercise, it's just as important to nourish your mind and soul and take good care of YOU.
This is what Reboot Your Soul is all about. Helping you slow down, recharge and create more happiness and ease in your daily life. 
When you join this program, for 30 days you'll make taking good care of yourself a priority. You'll receive inspiration and practical tools to help you reconnect with who you truly are, restore from any stress, overwhelm or burnout you've been feeling, and get back to healthy routines and practices that bring you real joy. 
Reboot Your Soul is a program unlike anything out there and I look forward to welcoming you to the program!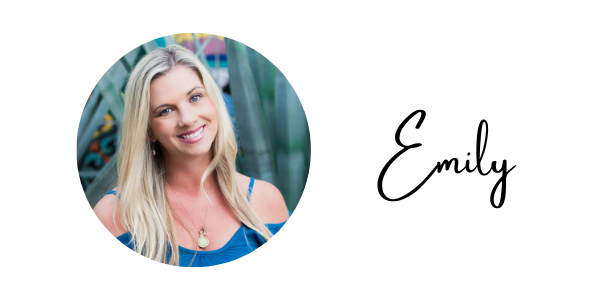 Reboot Your Soul at a Glance
When you join the program you'll receive:

A 30-Day Guided Gratitude Practice
Designed to help you experience more joy, peace and give you a boost of positivity, this simple practice can change your life. In only a matter of days you may find yourself sleeping better, feeling calmer, lighter, way less stressed and even rediscover unexpected laughter. 
An attitude of gratitude is key to cultivating goodness in our lives so don't be surprised if you find yourself manifesting far more — and with far more ease.

Daily Feel-Good Activities
Throughout the challenge, and for continued happiness, self-love and ease, these top 10 recommended feel-good activities will be your new best friends.
You'll also get a chart so you can record your activities to track your progress.

Weekly Audios from Emily
Each week you'll receive a new audio from Emily including inspiration and tools to create more joy, self-love and ease in your daily life. We'll cover changing your life with gratitude, how to be more kind and loving to Y-O-U (and stop being so hard on yourself!), how to choose happiness throughout your day, how to deal with disappointment, dark days, and negative emotions without falling down the rabbit hole, positive self-talk and thoughts … and so much more. 

Weekly Fun Sheets to Dive Deeper
Each week you'll receive PDF worksheets (but they're so fun we're calling them 'fun sheets') that will help you dive deeper so you can connect with yourself and get even more out of the challenge. 

Feel-Good Resource Hub
Get exclusive access to some of our favorite books, audios, videos, affirmations, meditations, journals and more. Play one of these podcasts, open one of these books, or try one of these meditations to stay inspired and uplifted throughout the challenge and beyond. 😊
Hello, Friend! I'm Emily Florence and I'm the founder of EveryDay Happy and host of the EveryDay Happy Show podcast. I'm also a certified life, life purpose and business coach and the creator of this special program. 
For over a decade, I've loved inspiring and supporting amazing people like yourself and helping them create more joy, self-love and ease in their lives. Having worked with thousands of people I know first-hand how simple changes in how we treat ourselves and approach our days can have a powerful impact on the quality of our lives. Not to mention, boost our energy and joy levels. 
I believe Audrey Hepburn was right when she said, "The most important thing is to enjoy your life, to be happy, it's all that matters." I also believe we're meant to be kind and loving to ourselves.
I'm excited to work with you when you join Reboot Your Soul!

What people are saying about Emily and EveryDay Happy
"Thank you for your posts - they are wonderful! Always just what I needed to hear!" 🥰
"Thanks for sharing your WISDOM!!!" 💖
– Betty
"I just have to tell you how very much I love your notes / snippets of info / messages! I can always relate to them and the simplicity of them! They just resonate with me. So, thank you!"
"Always great info! Love you. Hugs from Canada."
"Really enjoy your weekly email. Very positive and encouraging." 💗
"Thank you. This is just so wonderful. Namasté"
"Thank you sooo much for your Feel-Good Friday notes - means a lot!!" 😀😀😀
"I appreciate your emails and the insights you always share. Thank you for working to make other people's lives better and happier."
"Interesting, inspiring & highly recommend." 🙋🏻‍♀️ ❤️ ❤️
"RECOMMENDED for HOPE. Stay forever hopeful."
"You are a stand out that makes me happy every time I read your emails and makes me stop and realise that maybe I should take some time to stop stressing. Thank you for your beautiful kindness. I can only aspire to create such a wonderful inspirational loving and kind presence in the world."
"Thank you so much for all your positivity and insights."
"Thank you very much for your heart warming affirmations of positivity and gratitude in abundance. So appreciate you!"
"Thanks for your inspiring words. I always enjoy reading your emails and taking your advice. I'm grateful to have found Savvy Miss!"
How much time will it take?
Reboot Your Soul is a 30 day program and you'll want to plan on spending 15 to 30 minutes daily on your Gratitude Practice and Daily Feel-Good Activities. You'll also want to set aside about 45 minutes to one hour each week for the audio inspirations, tools and fun sheets. 
What's your refund policy?
There are no refunds for the challenge. 
Who can I contact with other questions?
Please send your questions to us at: team@everydayhappylife.com and we'll get back to you as soon as possible. 🙂