While we'd all love every Friday to be joyous (and every day for that matter) life happens, and we all face dark days, hard times and scary moments where wearing a smile on your face doesn't come naturally. 
The good news? No matter how melancholy your mood, there are real things you can do to feel even a tiny bit better. Here are five of my favorite go-to's:
1. Call your best friend, or someone you're close to, and talk about what's on your mind. Connecting and sharing reminds us we are not alone. It also helps us process, unpack and gain clarity and support.
2. Get some fresh air and take a walk. Notice the birds chirping and the flowers in bloom. Exercise releases endorphins which always gives us a pick-me-up. It also helps clear and re-organize our overworked and muddled minds.
3. Take out a pen and paper and write down five things you're grateful for right now.
4. Be intentional to be good to yourself. Get started on my new Love Yourself More workshop and stop being hard on yourself and opt for self-kindness and compassion instead.
5. Gift yourself an afternoon to do whatever it is you truly need right now. Perhaps meeting up with a good friend for lunch or a glass of wine, or curling up on the couch and getting lost in a good TV series is calling you. Maybe you're craving some alone time somewhere in nature. 
You know what's best for you, so give yourself permission to do it. 
Life is messy and things don't always go as planned. It's important to acknowledge your emotions and allow yourself to feel what you do without judging yourself.
Then, do what you can to be positive, search for silver linings, and choose faith over fear. 
Things have a way of working out, so do your best to release your worries by focusing on what you're grateful for, and making time to do things that bring a smile to your face. 
Wishing you a wonderful weekend!
Emily and the EveryDay Happy Team
Emily Florence, Founder of EveryDay Happy. (And happy Harper dog!)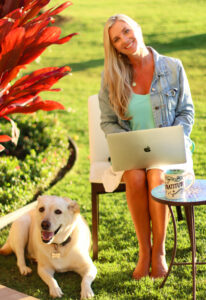 Quote for your day
"Happiness is letting go of what you think your life is supposed to look like and enjoying it for everything that it is." — Mandy Hale

Read and Listen to More Like This 
Why You Need a Self-Care Sunday
What to Do When Life Feels Overwhelming