We women do so much. We give to work, family and friends. We manage homes, meals, pet vet appointments and still make time for that monthly not-so-fun bikini wax.
The female lion even does 90% of the hunting for her family. (Guess ladies get it done in the animal kingdom too!)
This time of year can be especially demanding as we say adieu to the summer work slow-down and officially fall back in to the 9-5 grind. And for savvy moms, those little kiddo soccer games, school conferences and classmate birthday parties can make it feel like time just isn't on our side.
But, what if we only did what we absolutely had to and nothing else for a change? What if we didn't go above and beyond, stress ourselves out and break our backs to get everything done as perfect as possible?
This weekend, try creating white space in your calendar wherever you can and give yourself permission to kick back and do a whole lotta nada. Take a break from overachieving and opt for doing the bare minimum.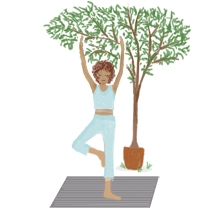 Be OK with not going the extra mile and instead enjoy yourself – sans guilt!
Wear your PJ's 'till noon, binge some seriously good bad TV and pop open a bottle of your favorite bubbly.
Stretch out in a Yin yoga class, treat yourself to a 30-minute foot massage and do so much staring up at the sky it bores you.
We all love giving our best, but we need time to relax and recharge in order to fully be our best. It helps us stay physically healthy, not to mention mentally sane.
It's not lazy — it's loving.
Monday will be here soon enough.
Quote du jour
"Sometimes the most productive thing you can do is relax." – Mark Black
Savvy Tip
Does the idea of relaxing stress you out? We know the type. (And we know you know you need it most!)
Dip your toe in by taking a bite of dark chocolate. Just a nibble calms nerves and regulates cortisol levels (the stress hormone that when running high can cause muffin tops and all kinds of trouble).
Did we say a nibble? We meant nosh on a whole bar, naturally. 😉
READ MORE LIKE THIS
Don't Stumble Over What's Behind You