Are you ready to feel happier and more fulfilled at the end of every day?
Is it about time you experience more ease and joy in your life and less struggle and overwhelm?
Then you're going to love EveryDay Happy – our online class that will show you how to create more happiness, self-love and ease in your life. 
You know life isn't all sunshine and rainbows — you'll always face hurdles (and no one is happy 100% of the time), but EveryDay Happy will give you the tools you need to navigate those hurdles and create more joy, self-love and ease in your every day.
This class is for you if you're ready to feel happier, be kinder and more loving to yourself and enjoy your life far more – and you're willing to do the work – because you know you're worth it!
Feel more confident and secure in who you are; and love, accept and take better care of the person staring back at you in the mirror.
Discover more meaning and purpose in your life.
Create more joy and ease in your every day and less stress, struggle or overwhelm.
Reconnect with your true self and tap into your own self-awareness and intuition.
Embark on a 30-day Gratitude Practice to feel more grateful for everything you have and excited for what's to come.
Get clear on the life you want to live and learn how to manifest your desires with far more ease.
Wake up feeling excited about your life and eager for your day.
Forgive yourself and others and let go of anything from the past that's holding you back. 
Set healthy boundaries and learn to make self-loving and self-serving choices.
Have a greater positive impact in the lives of loved ones and in the world.
Boost your self-esteem, realize how special you truly are and love yourself more than ever.
30-Day Gratitude Practice:
Being grateful isn't always easy, but it's hands-down the quickest, easiest way to create a happy life. Not to mention, giving thanks is like screaming to the universe, "Yes! Give me more of what I want, please, thank you." So, you'll find yourself manifesting more of your desires and with far more ease.
As you go through your daily gratitude practice pay attention to how you feel and the positive shifts taking place in your life. Get ready for your mood to improve, to feel calmer, lighter, sleep sounder and rediscover unexpected laughter!
Powerful Welcome Workbook:
This Welcome Workbook is a powerful way to kick-off the class!
As you get excited for this new journey ahead, it's important to take a moment to reflect and congratulate yourself on all that you've already achieved, get clear on what you'd like to experience next and remember what you're really living for.
Daily Feel-Good Activities Toolkit & Checklist:
Over the 30 days, and for continued happiness, self-love and ease, you'll select two daily feel-good activities from our list to enjoy. These feel-good activities include affirmations, journaling, meditations, inspiring reads, audios, videos and other 10-minute activities that will light you up and help you feel inspired, empowered and connected. 
You'll receive a special list of our personal favorites, plus direct links so you can enjoy them too!
Each week you'll receive access to a new lesson including an audio and PDF workbook in our private member area. You can listen to the lessons on your computer, phone or tablet and enjoy while you sit and sip, drive from here to there, or take a walk in nature. 
Lesson 1: Self-Love the Savvy Way
Week One is all about you practicing more love for yourself in your daily life.
Self-love is the foundation for a happy life. When you're truly good to yourself and love the person staring back at you in the mirror every aspect of life becomes easier and far more fun.
This week, you'll learn how to be kinder and more loving to yourself and work through exercises to boost your self-acceptance, self-worth, self-compassion and self-love. You'll feel better about yourself than ever. 
Lesson 2: Self-Care the Savvy Way
Lesson Two is all about you practicing more self-care in your daily life.
Self-care doesn't mean that you have to start off your day meditating and drinking a green juice. It simply means taking great care of Y-O-U by listening to your body, mind and spirit and honoring their needs.
This week we'll focus on how to boost your self-care and create more space in your calendar for "Me Time" – even if you don't think you have the time! And how taking care of yourself first will help you take better care of your loved ones. 
Lesson 3: Creating Your Happy
Happiness is what life's about, but it's not always easy to accomplish. There are inner and outer factors that impact our levels of joy and this week we'll show you how to create more happiness in your every day, let go of negative thoughts and self-talk, and make choices in your life that will help you discover your happy place. 
Lesson 4: Manifesting and Living Your Happiest Life
Everything you want is because you believe it will make you happy. In our last week, we'll teach you real tools that work so you can begin manifesting more of what you want to experience in life – and with far more ease.
Life is supposed to be fun and an adventure, so we'll show you how to live a life that's truly yours: the kind of life that makes you smile and serves you to the fullest.
Visit and Revisit the Class Materials in our Private Member Area:
When you enroll you'll receive a username and password to access the class in our private member area. You can enjoy all class materials any time after the lessons are released weekly and from anywhere in the world.
This means if you want to join now, but don't want to begin until next month (or even next year!) it's no problem.
Live Group Experience Option:
When you join EveryDay Happy + Live Group Experience you'll also receive the following:
4 Get Happy Hour Live Group Calls
Hosted by Emily Florence, Founder and CEO of Savvy Miss, on our Get Happy Hour live group calls you'll join fellow EveryDay Happy students to dive deeper into class materials, enjoy Q&A time and receive additional resources, inspiration and empowerment. Calls take place every Wednesday at 8 PM EST — pour a cup of tea or glass of wine and enjoy! Can't make a call? All calls are recorded so you can listen later and you'll be invited to send in questions ahead of time. 
Mix and mingle with fellow EveryDay Happy students in our private Facebook group. Here you can share stories, receive accountability, enjoy additional resources, inspiration and empowerment. You may even make some new BFF's! 
"Love yourself first and everything else falls into line. You really have to love yourself to get anything done in this world."
– Lucille Ball
Your Host – Emily Florence
Founder & CEO of Savvy Miss • Certified Life, Life Purpose & Business Coach • Author • Life Lover!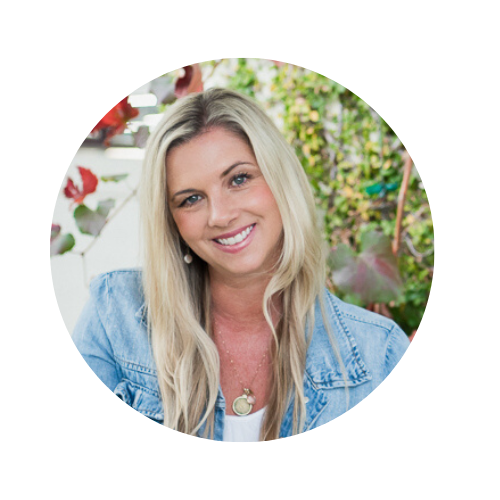 Hello and welcome!
I'm so excited to be able to offer you this class – designed specifically to uplift, inspire and empower you. Not to mention, add more fun to your every day. 🙂
This class is created with amazing tools and processes I've studied and used for over a decade in my own life, and with my one-on-one clients and students. The great news? They can completely transform your life – and with ease.
You deserve to feel happy and to be kind and loving to yourself. You deserve to live a life you love with more ease and joy and less struggle, stress or overwhelm. I'm excited to get to know you and see how wonderful you feel throughout your EveryDay Happy journey!
Love and smiles,
Emily
Enroll now and you can begin right away.
Doors close soon!
10 Day Money-Back Guarantee
Kick up your feet and relax. You have 10 days after purchasing to receive a full-refund. Simply notify our team within the first 10 days and we'll take care of you!
Frequently Asked Questions
How much time will the class take?
The class takes place over 30 days, and you'll want to plan on spending 15 to 20 minutes daily on your Gratitude Practice and Daily Feel-Good Activities. You'll also want to spend about 45 minutes to one hour each week to listen to the audio lessons and do the exercises in your workbook.
You have lifetime access to the class so you can always go at your own pace if needed.
What if I want to take the class but don't have the time right now?
The beauty of this program is you can do it any time and from anywhere. If you'd rather start your EveryDay Happy journey next week, next month or next year, you'll have all the materials and can begin when you're ready.
What if I can't make a live call?
Not a problem. All calls are recorded and you can listen to the replays any time. Plus, you'll have the chance to email in any questions you want answered ahead of time.
What if I sign up for the class and then don't feel it's a good fit?
You have 10 days to try out the program and if you're not feeling it email us at team@savvymiss.com within 10 days of registering and we'll give you a full refund, no questions asked.
Who can I contact with questions?
Send your questions to team@savvymiss.com and we'll get back to you asap!
"The purpose of our lives is to be happy."
– Dalai Lama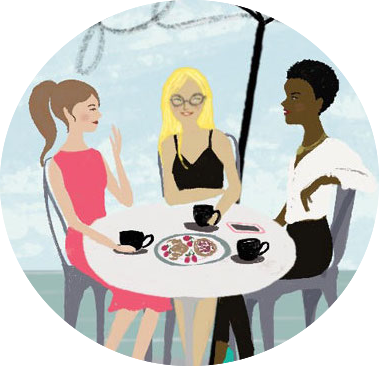 We're honored to be named a Forbes Top 100 Website for Women and W3 Award-Winner for Best Lifestyle Website.
Savvy Miss is all about helping people create happier, more fulfilled, easygoing lives. From our weekly Friday feel-good notes and upcoming podcast show, to our Instagram posts and stories, everything we do is designed to help you create more joy, self-love and ease in your life. Not to mention add a little more fun to your every day!